Hansen Recruiting with the hopes of creating a fun, modern, and clean website that would truly speak to their business and unique culture. So, we got to work coming up with an inspiring design that was both colorful and clean, while also reflecting their style.
Modern and Imaginative Design
We loved working with Hansen Recruiting as we designed and developed their web design project. The end result showed both the hard work and the fun as their site is not only aesthetically beautiful, but functional, user-friendly, and easy to navigate to boot!

After meeting with Hansen Recruiting to understand their brand, company culture, and their stylistic preferences, we set to making their logo. We started off by giving them a few completely different options, then they chose their favorite and we went through three rounds of revisions to make sure their logo spoke to both their audience – and them!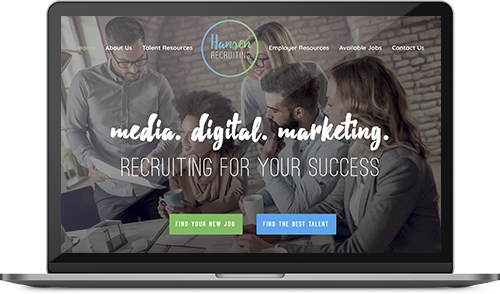 We got the opportunity to be creative, artistic, and fun with this web design project and we love the way both their website and their logo turned out. From the layout and navigation of their shiny new site to the incorporation of imagery, color, and whimsy, we were as happy as our clients when their project went live!