Viking Products is a globally reaching, family-owned and operated business that specializes in designing, developing, and delivering solution-oriented products and services for a wide variety of industries.
Due to their expanding global network and their outstanding engineering expertise, along with their strong desire to deliver exceptional service and exceed their customers' expectations, Viking Products urged for their website to reflect their philosophy of continuous improvement.
The main concern that Viking Products had was that their website was not compliant with the newly established brand standards and asked the JSL team to help them accomplish brand consistency with it.
Viking Products had recently renewed its brand guidelines, incorporating a wide variety of grays and a deep cobalt blue tonality with its respective tints. This color palette was not sufficiently implemented on the old site and as such, it was distancing from the unity that the brand should have conveyed. Additionally, there were a few design inconsistencies such as the excessively large navigation which, along with the "Request a quote" pop-up, was considerably limiting the visibility and readability of the website as well as obstructing the headers on each page. For the representation of the brand, the cut-out logo on the top navigation represented another major defect.
Adjusting functional inconsistencies and adapting the latest brand specifications to the digital environment was in itself the ideal plan of action.
The errors previously listed were taken care of through the creation of a main navigation that does not divert the user's focus from the main content of the website by occupying unnecessary space. When it came to design elements, the website needed to confer the noteworthy engineering excellence of the business. The upgraded brand guidelines favored this through the use of bold fonts and colors, slanted angles, and rectangular sections.
These elements combined with hints of blues and external glows on floating boxes, backgrounds, and images mimic the mechanical and industrious character of the company. The focus is directed to the bold areas of color and as such the images are solely black and white, except for the business partners' logos and the photos of the different products.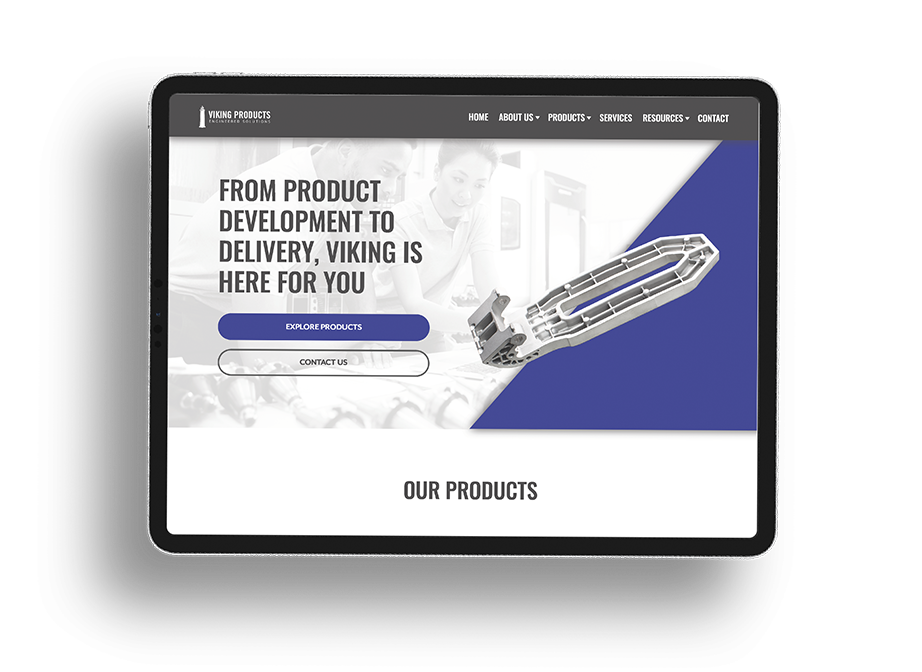 The pictures of the fabricated components are the main focus of the design and are therefore presented through slideshows and animated lists throughout the website. The product description pages are cleverly arranged to maintain the same standards of their printed counterparts while exhibiting the interactive aspect that is typical of a modern, professional website design. The tilted angles, used as separation tools for background and foreground elements, guide the user's visual flow across the pages and are balanced by the round edges of the buttons. As a result the website's new aesthetic matches the technical nature of the content of the website.
Contact JSL Marketing & Web Design!
Let us know what services you're looking for!
Oops! Something went wrong while submitting the form.