Brand Development
& Web Design
Frisco West WCIDDC approached us in need of brand development, brand collateral, and web design services for their new district. Located in North Texas in the greater DFW area, we were very excited to get started working with a local district right in our own backyard! Oftentimes branding projects begin with an existing brand that simply needs updating, but in the case of Frisco West WCIDDC, we were able to start completely from scratch, creating everything from the logo to the color palette and more!
We began the brand development process by going over the completed branding questionnaire from Frisco West WCIDDC in order to gain a better understanding of the district's background, values, likes and dislikes, etc. We then sat down with the Frisco West WCIDDC team in a creative brainstorming meeting to learn even more and begin to develop a strategy. Next, we got to work designing the color palette and choosing the fonts to be used on both the website and for all printed materials. Once we landed on colors and fonts, we began on logo creation.
Frisco West WCIDDC was unique in that they wanted a regular logo with the district's name, but also an official seal that could be used in various settings to represent the district. Both the logo and the seal incorporate similar elements – like the peach tree, which is significant to the history of Frisco West WCIDDC – but are each unique in their own way. We are very pleased with how this portion of the branding process turned out, and we particularly love the way that logo and seal work together to tell the district's unique story.

Once we had the color palette, fonts, logo, and seal decided on and approved we got to work creating the requested brand collateral. Typically, this can include anything from business cards and letterheads to T-shirt designs and so much more. In the case of Frisco West WCIDDC, we designed business cards, a letterhead, magnets, stickers, and pens. Again, we are really happy with the way each item turned out and enjoyed working on this portion of the brand development process.
We also redesigned Frisco West WCIDDC's website so that the new site would be in line with the new brand. The old website was essentially brand-less, but with this redesign we were able to incorporate the logo, overall color scheme, and fonts that matched the newly created brand. This will help to promote brand consistency and recognition as the district grows over time.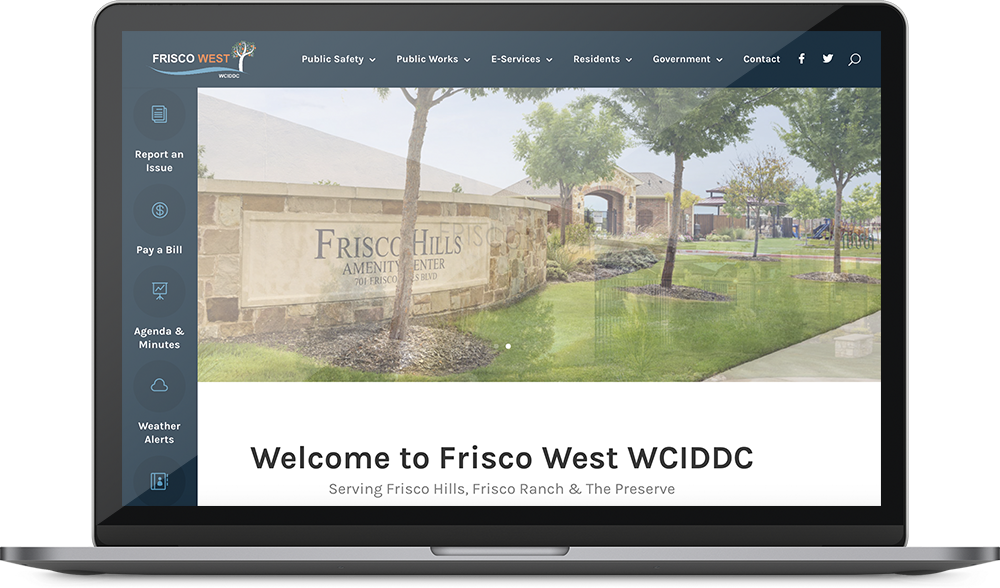 Given the extent of this branding project, the entire process took several months to complete. However, we love the way that the Frisco West brand turned out, and we can't wait to see the district grow and thrive in North Texas as a result of our efforts.