At JSL Marketing & Web Design, we specialize in developing and implementing highly effective, growth-based, successful SEO strategies – but those strategies are hardly one-size-fits-all, or one-SEO-strategy-works-for-all.
The truth is, a relatively small change can dramatically alter your strategy. For example, are you looking to corner local keywords or national? If that answer is local, then where do you draw those 'local' lines?
A lot more goes into local SEO than you might think, but in true JSL Marketing fashion, we've broken it down into five simple steps to lead your business to local SEO fame!
Step One: Do Your Research & Pick a Plum (Local SEO Keyword Selection)

As stated by our 'National SEO VS. Local SEO' blog from last July, local SEO is named rather suitably, as it all has to do with your service area, or location-specific keywords.
This means you need to define not only your location (or service area) but also keywords you want to be targeting in that area. For example, if you are in Dallas, then El Paso keywords won't help your bottom line very much.
One would think this goes without saying, but, just so we're clear – if you are a hair salon wedged between Dallas and Fort Worth, then 'Hair Salon El Paso' is a very bad keyword to target.
Even if you manage to rank for that particular keyword (which would be exceedingly difficult due to your NAP Data) being on the first page of Google for a keyword that can't bring you any revenue is kind of like winning a time-consuming, expensive competition that doesn't award any prize money.
It might be good for your ego, but it doesn't help your business at all.
Instead of picking random keywords you think will be good and tacking your city name on their backend, research keywords a little more thoroughly with Google's Keyword Planner, MOZ's Keyword Explorer, Keyword Tool, SEMRush or similar tools available online.
Step Two: Google My Business is Your New Best Friend
Once you have done the research and found the keywords you want to target (we most highly recommend SEMRush to find which keywords have the highest search volume, lowest competition, and are relevant to you) then you have to use those keywords.
In other words, you won't skyrocket to the top four spots on Google just because you know which local words or phrases are being searched for – you need to use that knowledge to make yourself show up.
The best way to do this is actually two steps:
Let's start with Google My Business.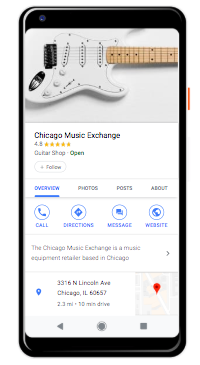 With 9,605,000,000 (that's over nine and a half billion) searches for restaurants, hotels, clothing stores, beauty salons, and coffee shops every month, it is imperative that your business is on Google – hence, Google My Business.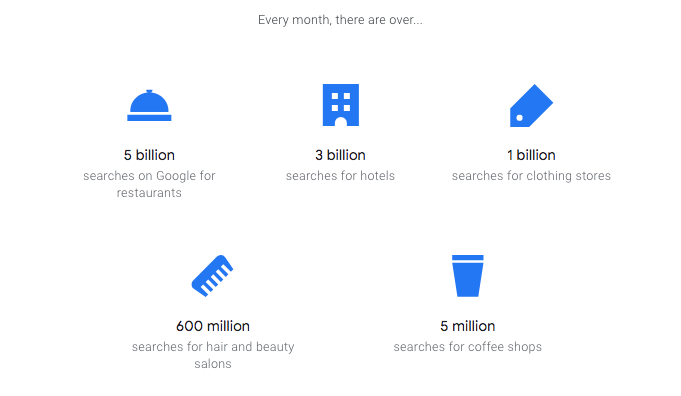 In order to have your Google My Business be fully functional, helpful, and accurate, we recommend you follow this pattern:
Verification – claim your page and go through the verification process
NAP – accurately input your Name, Address, and Phone number (use a local number, not 800 number for best results)
Categories – choose 4 or 5 categories to accurately represent your business
Description – 200-word max, use this space to state your company name, location, main services and end with a CTA (such as your phone number, etc)
Hours – this is as important as your NAP data to Google, make sure they are up-to-date and accurate
Images – frequently updated images show your customers that you are online, and shows Google that you are open, in-business, and current (keep images between 10KB and 5MB, in-focus, an at least a resolution of 720px x 720px)
Step Three: Optimize (Implement) Your Local Keywords on Your Website
Content is king, meaning you need the content on your website to be in-depth, comprehensive, and helpful. But not all content is created equal, in fact, if you read up on last week's post (Title Tags, H1, H2, & More) then you know that search engines place the most weight on Title Tags, Meta Descriptions, H1, and H2 Tags (in non-technical terms – webpage names, synopsizes, and headers).
This means you need to place your keywords in the tags mentioned above, but also throughout your webpage copy in a natural way via semantically-related keywords as Google can now tell what a page is about even without the exact keyword showing up 10+ times.
This is thanks to the Rankbrain update mainly, though the culmination of all of Google's latest updates have been what truly brought the search engine's comprehension levels to be almost on par with humans.
So, what would Step 3 look like in real life? Let's go back to the hair salon example to make things clearer.
Your Title Tag (50-60 characters) could be something like:
Luxury Hair Salon in Dallas-Fort Worth | JSL Salon & Styling
Makes sense, right? It gives the location, industry, and name. All the vital details your customers (and Google) would want in one, quick takeaway. And all in just 50-60 characters.
Your Meta Description (100-175 characters) could be:
JSL Salon & Styling offers high-end, luxurious hair, nail, and beauty services in Dallas, Fort Worth, & the surrounding areas! Call us at ___-____ for an appointment today!
This merely tells a little more about featured services and ends with a CTA, or call to action, to lead your guests to the next step – in this case, calling your store.
Your H1 & H2 Tags (the headers on your page) could be:
[H1] Nail Services in Dallas & Fort Worth
[H1] Dallas Nail Salon Services
[H1] Luxury Hair Salon Services in DFW
[H1] Extensions, Cuts, Colors, & More | Dallas, Fort Worth, Arlington
And of course, the content beneath these tags should be comprehensive, true, and helpful to your audience.
Think of the above blog, for instance, are you now more well-versed in keyword research tools, Google My Business, and implementing keywords? We should hope so.
Now scroll back up and look at the section you've already read. What do you think is the H1 Tag here? The title of the blog, yes. What are the H2 Tags? The Steps.
Step 4: Get in with the In-Crowd (Local SEO Needs Local Backlinks & Lists)
Backlinks are a way that search engines learn to trust you, or to see your relevance, popularity, and importance in a certain industry or field. This means that backlinks are very important for both national and local SEO.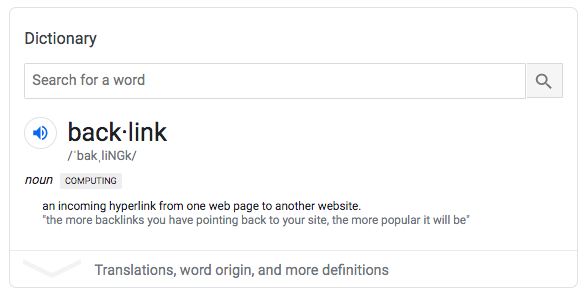 However, being placed on local lists is important for (you guessed it) local SEO as well, as it gives you a backlink from a site that specializes in your area, and also makes you more available and searchable for your clients.
You can use data management tools like Yext to help you keep track of your business' location-related data on directories and local lists. Or you can manage your lists manually and join local business directories like Yelp, YellowPages, Yellowbook, The Better Business Bureau, Angieslist, and more. Or industry-specific lists, such as UpCity or Clutch for Marketing Services.
Step 5: Know Your Results, Track Your Results, Get Better Results
JSL Marketing doesn't just say we specialize in local SEO, we prove it with our analytics and reporting each and every month to our clients.
Every month we use a multitude of tools to send our clients a personalized, accurate picture of how their rankings, traffic, and leads are progressing according to our local SEO strategy.
We personally use SEMRush, Google Data Studio, and a few other tools to create our comprehensive reports in clear, current, and correct ways.
And though we hope these steps are as simple to follow and successful in your local SEO journey as they have been for many of our clients, we are happy to help you along at any stage. Simply give us a call, check out our services, or learn more about us here.
Or, check back on our blog for weekly updates about all things Digital Marketing, SEO, Web Design, and Branding.
We can't wait to make your business a local superstar.