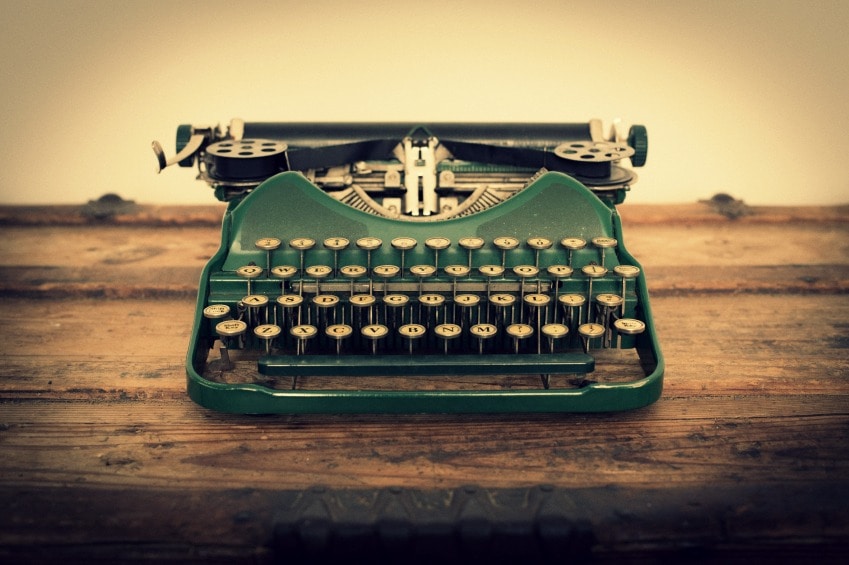 "A copywriter is a salesperson behind a typewriter" – Judith Charles
I couldn't have put it better myself – copywriting isn't just about writing random words on a page. It isn't just about having a firm grasp on grammar (although that does help). When it really comes down to it, copywriting is about creating copy (or words) that sell.
And that doesn't mean just sell a product or service – effective copywriting sells the reader on whatever is being written about, causing them to take action – whether that be to buy a certain product or just subscribe to an email list on a website.
Whichever way you slice it, copywriting is important to your business.
We've already talked about why your business should invest in quality copywriting, but where exactly can you utilize copywriting within your business?
In other words, what can a copywriter offer you?
There are many, many ways that a copywriter can benefit a brand or business, but here are just 7 to get you started:
1. Web Pages and Blog Posts
The copy that appears on your website is critical because oftentimes it's the first thing that potential customers see when visiting your business online. You need to make a great first impression, and really make your purpose clear from the get go – in other words, what action are you wanting your readers to take after they visit your site? Whatever it is, your copy should all be focused around that action. In a similar way, blogging is great for giving additional information to your audience, as well as converting passive readers into loyal customers. For more on blogging and why this is an effective strategy, visit this blog post here.
2. Sales Pages
Typically, the sales pages on your website will be landing pages, meaning that your readers will land on these pages following a specific prompt from something like a PPC ad, Facebook ad or other social media post. Having cohesive copy that really sells your product or service is extremely important for sales pages for obvious reasons – you want your readers to take action!
3. E-Books
A great way to establish yourself as an authority within your industry or niche is to write an e-book related to your topic. However, many business owners struggle with putting their ideas into words, which is where a copywriter can come in. By creating a well-written, informative e-book for your business, you'll be able to reach an entirely new potential audience, all while establishing yourself as an industry authority.
4. Emails and Newsletter
Staying in touch with your audience via e-mails and newsletters is an important marketing strategy. A copywriter can help make those scheduled interactions much more cohesive with your overall brand. Plus, if you're sending a promotional email, a copywriter can help write the perfect call to action.
5. Brochures and Pamphlets
Copywriting isn't just confined to the internet. Print marketing is still a thing, and many times brochures and pamphlets are what really work for businesses. Add the perfect copy, along with a solid call to action, and your print marketing will be looking sharp in no time!
6. Press Releases
If you have an important event of product releases coming up, creating a press release is super important. Whether you're releasing the press release online or via hard copies, a copywriter can help to tell your brand's story in an engaging, yet informative way.
7. Social Media Content
What you post on social media can really make or break your business. Make sure it's engaging and also cohesive with your overall brand by investing in quality social media copywriting from the get-go. You'd be surprised how big of a difference this can make.
In short, there are certain areas where you really can't afford not to use professional, carefully-crafted copywriting within your business. If you need help creating the perfect copy in any of these areas, get in touch with us today by filling out the form below or giving us a call at 817.470.5274. We'd love to help make your brand really stand out from the competition!
---