JSL Marketing is happy to announce that we have been recognized for our leading work in web design. Today, Clutch, a research firm in Washington, DC, released a list of the top web designers in Dallas and in Texas. JSL Marketing was featured as the top Dallas web designer and was featured as the third best in the state.
We competed with over 150 other companies in Texas, and we are happy to be recognized for our efforts and our track history with providing high quality websites for our clients. We have helped many clients build and increase their brands through beautifully crafted websites and it is an honor to receive this recognition.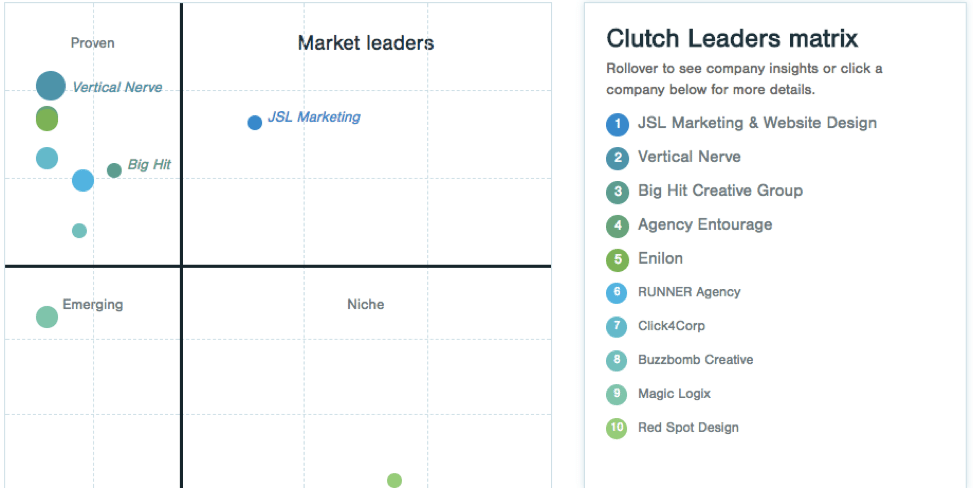 Our ranking is based on Clutch's research methodology. They have gathered industry-rich data on tens of thousands of companies, and they have ranked them. Rank is based on a company's 'ability to deliver', reviews, experience, and its presence on the market. The rankings are then featured in a "Leaders Matrix" (pictured above).
An integral part to Clutch's methodology is client reviews. Here are what just a few of our customers had to say:
"They are very knowledgeable and creative. I'll definitely be calling them again."
"They're very responsive and have done a great job."
As we continue to grow our clients' brands, we look forward to receiving more acclaim from our clients who reviewed us on Clutch, and we are enthusiastic to continue to produce more high quality websites for our clients.
We have also been recognized as a top Website Design Company on DesignRush!