Keywords are one of the most important aspects of your SEO journey, as without good, relevant, and researched keywords on your page, Google doesn't know what your purpose or services are, or when to show you in search results!
This means that no matter how beautifully designed your website is, without great content and relevant keywords throughout…no one will ever see that gorgeous website. And as a company that makes beautiful websites, we want to make sure they are seen!
Keyword 101
Let's start from the beginning – keywords are words or phrases that your customers are typing into Google when they want to find your industry or services, like: 'best practices for web design', 'SEO agency near me', or 'how to do keyword research'.
Make sure you use relevant and local keywords throughout your webpage in order to clearly let Google know what you do and where you do it (are you a local business or do you ship/work around the US or world?).
And though 'put relevant keywords in your content' may seem simple, it's almost so broad that it doesn't help at all. So, make sure you have keywords in these four places:
Page Titles:
Your page title is one of the most important places for your keywords to appear. Your page title is essentially the page 'name' or title that shows on search engine results pages for users to click to visit your webpage. Your page title is the purple text below:

Meta Descriptions:
Metas are the grey text above, showing a snippet of what is on your page. This is a great place to put keywords, so the user knows what to expect. Make sure you have a unique meta for each of your pages – because each of your webpages gives unique information.
Headers (H1, H2, H3):
Your headers are like an outline of your content with H1 being your subject at the top of the page (in the biggest font). You can have multiple H2, H3, H4, and more per page, but only one H1. Since Headers are 'subject lines', they are weighted more heavily by Google and therefore a great place for keywords!
Content:
Content is any of the written words on your page. Of course, having your keywords in your H1, Title, and Metas are more visible and therefore most helpful, but if you are going to talk about a subject fully and thoroughly, then these keywords and phrases will naturally be throughout your on-page content as well.
Google likes to see 'in-depth content' that shows you know what you are talking about – it's one of the ways it judges your expertise! So make sure your content is long enough to fully explain your services or products, and has adequate keywords to make the subject clear.
Content & Keywords: Putting it All Together
The content throughout your website is important, but making sure the content on your home page shows your value, or why you are a better choice than all the other companies out there, is paramount. What makes you unique? What benefits do you give? What's your 'elevator pitch' of why someone should choose you over a competitor?
Having at least 700 words on your Home Page is ideal – and this is just a minimum. Remember, Google likes to see 'in-depth' content that fully answers a customer's question or fully informs them.
Look at the below example that ticks all the style, H1, Call to Action, and content boxes for a homepage. Of course, there is more content below the fold – but this is a great snapshot of the 'first look' of a homepage.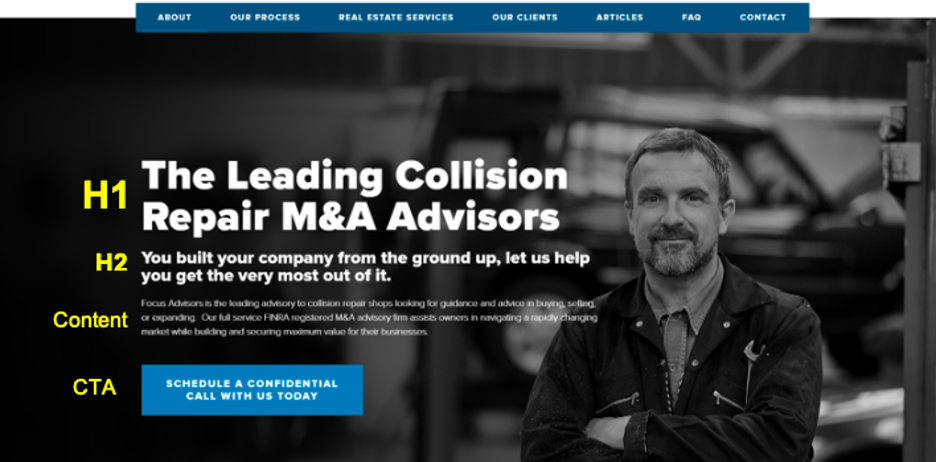 The above H1 has great keyword placement, as does the H2 and content. Additionally, the banner image (the black and white photo) is clean, attractive, and lends to a modern web design.
Next, the CTA, or Call to Action, leads your customer to your main goal (blue button, or 'contact'). After you scroll down the page, you should also see sections on:
    Who you are (link to your About Page)

    Your services/products (link to your Services/Products Page)

    Testimonials, awards, benefits, or other trust factors

    Updates or connectors at bottom of page (social media, blog, mailing list, contact form)

    Try to have all pages of your website represented in small sections on your Home Page
Here are some more content tips for your other pages:
About Page: Having an About Page shows your history and is a great place for your values, why, experience, journey, and purpose. Try to shoot for at least 400-700 words here.
Products or Services Page(s): This should be a keyword rich page, as most people will be searching for a specific service or product that they need. Write a section on each product or service that 'sells' it to the customer and includes relevant keywords.
Resources or Blog Page: Content freshness shows you didn't just 'make a website and forget it' but are constantly updating and caring for it. It also allows you to put out new content in the form of blogs or articles where you can put more keywords and inform your readers and website visitors. Aim to write at least one 600+ word post per month.
Contact Page: Unless you are e-commerce, this is the ultimate goal of your website: to be contacted or visited, so make sure you have accurate NAP information: Name, Address, Phone (email or online submission forms are great, too!)
Need Content, Keyword, or Web Design Help? JSL Are Your Trusted Experts for a Reason!
JSL Marketing is your go-to company for web design, keyword research, digital marketing, and content marketing.
Check out our own homepage to see the styles that are most successful for web design lately. Or, see our past work, testimonials, and resources to learn more.
Contact to get your content, keywords, and more in tip-top shape!