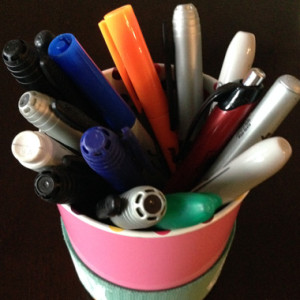 The dreaded writers block.
If you've ever written a blog post, or anything for that matter, you've probably experienced the dreaded, almost inevitable writers block.
And if you haven't, allow me to fill you in. Writer's block looks something like this: staring at a blank Word document or piece of notebook paper for an extended (often longer than you'd care to admit) period of time with absolutely no idea of what to write next.
Sometimes banging your head on the wall or table ensues.
Marketers, too, can experience this same sort of block – marketers block if you will. Basically those times when you feel like you've tried everything to market your business online, but nothing is working – you're just not sure what to do next.
When you hit the wall – and it's best just to face it, you probably will hit it at some point in your career – how will you get yourself out of the rut? How will you find those next words or new strategy?
Personally, I deal with the problem by turning to some of my favorite resources on the web. Reading through their blog posts, e-books and other resources provide me with ideas and motivation to keep going strong. So, if you've ever found yourself stuck in your work, check out some of these awesome resources for writers and marketers:
1. CopyBlogger
I love CopyBlogger, and have been a huge fan of this website for a long time. The folks over there provide amazing free resources – including e-books and blog posts – for their readers on topics ranging from headline writing and content marketing to online marketing strategies and tips on copywriting. I've read through a lot of their e-books (all free when you create an account at copblogger.com), and I can't tell you how valuable they've been to me in understanding both copywriting and marketing.
2. Creative Penn
In my opinion, Creative Penn is one of the best resources out there for writers – both fiction and non-fiction. There's such a great assortment of content – from podcasts and blog posts to videos and actual courses on writing. Joanna, founder of Creative Penn, does an awesome job writing on a variety of topics, both motivational and instructional. Seriously, if you've ever wanted to know more about writing or how to market your e-books online, you'll definitely want to check this site out!
3. Men with Pens
Men with Pens is another resource for fiction writers, but even more so for copywriters. I've learned a lot from reading their blog, and there is always something new to learn! They specialize in creating websites and the copy that goes along with those websites, so if you're looking for tips or advice on how to write website copy, definitely take a look through their content. You can also sign up for their email list to receive regular updates.
4. Quick Sprout
If you need advice or inspiration on anything to do with marketing, Quick Sprout is definitely a website for you to check out. The Quick Sprout blog consists of a variety of relevant and interesting topics that will help you build success online. The site also has a number of helpful guides, for both beginners and advanced, on topics like Online Marketing, SEO, Content Marketing, Link Building, Landing Page Optimization, Copywriting and more.
5. Jeff Bullas
JeffBullas.com is the website to check out if you have any questions about internet marketing. The blog covers a lot of different topics, including things like conversion rates, social media, building a brand and platform, and more. I subscribe to his email list, so whenever a new blog is posted, I receive an update (which I love). He also talks a lot about Content Marketing, something that is vital to the success of online businesses today, so if you want to learn more about that, I'd totally recommend checking out the website.
6. Moz
Have you ever wanted to know more about SEO (Search Engine Optimization)? If so, Moz is the place you need to go. I love Moz because of the variety of useful SEO tools and their helpful blog, but also because Moz.com was where I first learned about SEO! They have an incredible resource – the Beginner's Guide to SEO – that I would totally recommend if you're looking for a great resource to learn the basics of the skill. It's seriously awesome, so go read it now!
7. Sandi Krakowski
I've taken several of Sandi Krakowski's online classes, and have learned a lot from them. She also offers several free classes to help you get started. Sandi has been very successful in her career online, and is super motivational. If you ever need a good dose of inspiration or motivation, I'd recommend checking out and following her page on Facebook. She's always posting useful tips, motivational quotes and other things to help her readers press on and forward.
So, there you have it. If you ever find yourself in a rut, try taking a look at one or all of these resources – you won't be disappointed, and you may just learn something new!
What resources do you turn to when you're in a rut?